2019 - Our year of Complete Recovery and Devine Delivery in every ramification of life.

Mid Year 7 days fasting Programme for 2018 is slated for Monday 16th through Sunday 22nd July 2018...
---
| | |
| --- | --- |
| 2017 Festival of Greatness - Int. Sch. of Ministry/prophetic prayer Rain | |
| Posted by Benjamin Dagbo (admin) on Aug 14 2017 under | Events & News >> |
Don't miss Thursday 17th, 3pm, Friday 18th, 9am and 3pm and Saturday 19th, 9am of this August 2017, for the International School of Ministry and prophetic prayer Rain of 2017 Festival of Greatness at God's will Mission Htrs, km 2, Usiefrun Rd Orhuwhorun, Udu LGA, Delta State. Nigeria. Very compulsory for all Ministers of the Gospel, Church leaders and workers. It is time for your great manifestation in Jesus Christ name.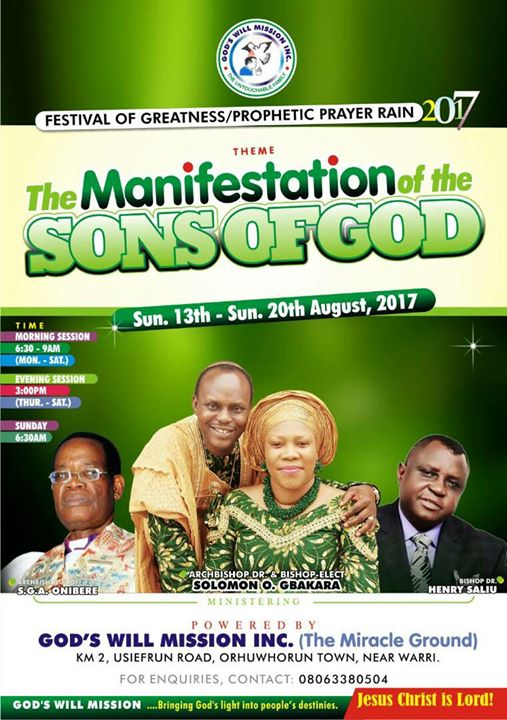 Last changed: Aug 14 2017 at 4:42 PM
Back
Comments
Add Comment
Sub Navigation
A crew of God's Generals.